Register and stop guessing what your customers do.
It only takes 5s yet gives 100s of opportunities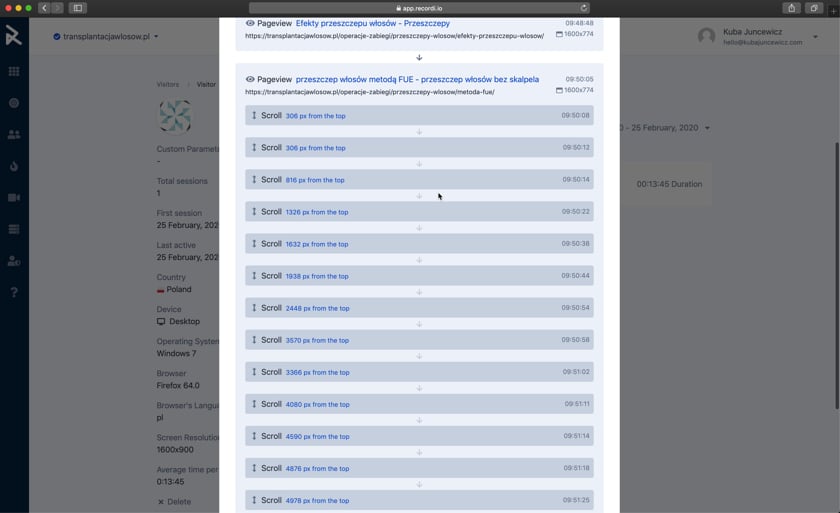 Analytics you need
Simple tool that "does the job"
You don't need to be a web analytics specialist to figure out how to use Recordi.io. Simple panel and nice clear analytics elements will give you easy access to all of the data. 
Dashboard
Everything in one place
The dashboard contains all the details you will need to know how you traffic is looking and evolving.
VISITORS
Learn more about your visitors
Understand what your users are doing by seeing every single step they make during their website journey.
View and get details of all the visitors

Analyze all their past sessions

including the flow of the visited pages and their actions

Identify your visitors

By connecting your logged-in users from your app to the tracking system by any identifier
See more
Session replays
Session replays are the most convenient way to easily check what a visitor did and his journey throughout the site. You will see exactly what they saw on the screen so you can figure out what's happening.
CLICKED?
Heatmaps
Not sure what's working or what's not? With heatmaps, you can see what's "clicking" and optimize your pages better.
Know your users
Recordi records for you every session
You can check every user that visited your site and see what they were doing on your website.
Recordi works with all platforms
Just instal your pixel code
Recordi.io is as simple to use as it is simple to install. You just need to copy and paste your pixel cone in <head> section. If you need help with that. Don't worry our support will set you up.
Start for free
Pricing
Than expend with one of the plans
$38 Lifetime
Basic
Basic is the perfect plan if you have 1 website.
[add_to_cart id="264" style=""]
$79 Lifetime
Pro
Pro is a plan for 5 websites with larger limits
[add_to_cart id="230" style=""]
$98 Lifetime
Business
Business is a plan for 7 sites and small agencies
[add_to_cart id="263" style=""]